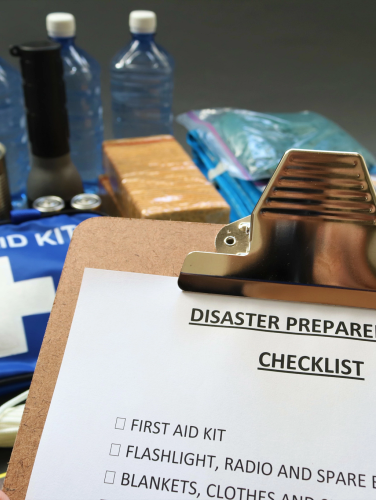 Public Health Preparedness
The goal of the Mecklenburg County Public Health (MCPH) Preparedness Team is to ensure readiness among staff as we prepare for, respond to, and recover from public health emergencies through coordinated training, planning, and exercises.
During each event, we serve as the department's coordinators to 1) monitor and respond to the event 2) provide assistance and support to all partners and 3) provide guidance and recommendations for key decision makers. 
Before and after events, we develop strategic plans to outline how MCPH will respond to each event. At the conclusion of developing a plan, we train and exercise to test our overall readiness. Exercising our plans allows our team the opportunity to evaluate the department on overall readiness to ensure we can respond to any event. 
Six Domains of Preparedness
The Mecklenburg County Public Health Preparedness Program works diligently to advance the CDC's six areas of preparedness to ensure readiness for all emergencies that may impact the public's health. Check out each of the domain's below to learn how we prepare for all potential threats.  Each domain listed below provides our team with a standard framework as we plan, exercise, and evaluate our ability to respond and recover from all public health emergencies.
Community Resilience: Preparing for and recovering from emergencies.

Incident management: Coordinating an effective response Information.

Management: Making sure people have information to take action.
Countermeasures and Mitigation: Getting medicines and supplies where they are needed.

Surge Management: Expanding medical services to handle large events.

Biosurveillance: Investigating and identifying health threats
Are You Ready?
Emergencies and disasters can occur at any time, therefore it's important to be prepared to evacuate or take cover inside when disasters strike. The most common emergencies seen in Mecklenburg County include, but are not limited to hurricanes, severe weather, flooding, power outages and extreme heat. It is important for you and your loved ones to always be ready. Check out some tips below on how to prepare for any of the emergencies listed above. 
Preparedness Tips for You and Your Loved Ones:
Know your risk: Hurricanes are not just a coastal problem. Heavy rain and winds from the hurricane may travel inland and cause severe weather and flooding. 

Make an emergency plan: Make sure everyone in your households understands and knows what your emergency plans are. Guides and resources are below to assist with preparing a family plan. 

Build a go-kit: During and after an emergency, your family may need to survive on your own for several days. Having a go-kit with food, water and essential supplies for each person is important when planning. Resources and guides are below to assist when building a go-kit.
Know where to evacuate: You may have to evacuate your home during an emergency. You should know where to evacuate and the best route to take to do so. Resources are below to assist you with knowing where to go. If you are unable to evacuate, you will need to shelter-in-place. 

Recognize warnings and alerts: You should have more than one way to receive alerts. You may receive real-time alerts from the National Weather Service or Emergency Alert System. It is important to have a fully charged back up charger just in case your mobile device loses charge. Additional resources are below. 
Get Emergency Alerts sent to your e-mail or phone.
Potassium Iodide Distribution
Mecklenburg County sits between two Duke Energy nuclear power plants, McGuire and Catawba. Due to their proximity to Mecklenburg County, residents and business should be prepared to protect themselves should a nuclear release affecting the health and safety of County residents occur.
In preparation of a possible nuclear release, the MCPH Preparedness Team provides potassium iodide (KI) tablets to Mecklenburg County residents and businesses who are within 10-miles of either nuclear power plant. Potassium iodide is a non-prescription medication that is used to protect the thyroid gland in the event of a nuclear release or radiological emergency. If taken at the appropriate time and at the proper dosage, potassium iodide can block the intake of radioactive iodine, therefore reducing the risk of thyroid cancer. Potassium iodide should NOT be taken unless directed by public health officials. If taking potassium iodide is recommended by public health officials, residents and businesses should still follow evacuation or shelter-in-place recommendations as well.
For Mecklenburg County Residents
If you are a Mecklenburg County resident who lives or works within 10-miles of either nuclear power plant, please visit the following locations during normal business hours to obtain your potassium iodide (KI):
Mecklenburg County Health Department - Uptown
618 N. College Street,
Charlotte, NC 28202
704-517-8046
Mecklenburg County Health Department - Northwest
2845 Beatties Ford Road,
Charlotte, NC 28216
704-336-6400
Cornelius Police Department
21440 Catawba Ave,
Cornelius, NC 28031
704-892-1363
Davidson Police Department
216 S Main St,
Davidson, NC 28036
704-892-5131
Huntersville Police Department
9630 Julian Clark Avenue,
Huntersville, NC 28078
704-464-5400
Pineville Police Department
427 Main Street,
Pineville, NC 28134
704-889-7867
Steele Creek Police Department 
2227 Westinghouse Blvd,
Charlotte, NC 28273
704-336-7800
For Mecklenburg County Businesses
All Mecklenburg County businesses located within 10-miles of either nuclear power plant requesting potassium iodide (KI) will need to submit a request on company letterhead documenting your business name, address, main point of contact and greatest number of employees at any given time. The request will then need to be taken to the following locations during normal business hours to obtain potassium iodide. Please call first to allow time to prepare medications. 
Mecklenburg County Health Department - Uptown
618 N. College Street,
Charlotte, NC 28202
704-517-8046
Mecklenburg County Health Department - Northwest
2845 Beatties Ford Road,
Charlotte, NC 28216
704-336-6400
For Residents and Businesses Outside of Mecklenburg County
If you are a resident or business in Catawba, Gaston, Iredell or Lincoln County within 10-miles of either nuclear power plant, please visit the following distribution sites during normal business hours or contact your local health department for more information. South Carolina residents and businesses should contact their local health department for more information. Please call before visiting each distribution site to check the availability of potassium iodide.
Catawba County
Catawba County Health Department 
3070 11th Avenue Drive SE,
Hickory, NC 28602
828-695-5800
Gaston County
Gaston County Environmental Health Department
991 W. Hudson Blvd.,
Gastonia, NC 28052
704-853-5200
Iredell County
Iredell County Health Department*
318 Turnersburg Highway,
Statesville, NC 28625
704-761-2487
Iredell County Health Department* 
610 East Center Avenue,
Mooresville, NC 28115
704-761-2487
Lincoln County
Lincoln County Health Department 
151 Sigmon Road,
Lincolnton, NC 28092
704-735-3001
The Florence S. Shanklin Library
7837 Fairfield Forrest Road,
Denver, NC 28037 
704-483-3589
*Businesses should send all requests by fax to the Statesville Campus at 704-871-3474. Requests should be on company letterhead and must contain the number of employees on site during the largest shift and the name(s) of company representative(s) who will have the authority to pick up the tablets. All requests must be submitted at least 5 days in advance. 
Closed Point of Dispensing (POD)
Points of Dispensing (PODs) are community locations in which state and local agencies dispense medical countermeasures (MCMs) such as vaccines, antiviral drugs, antibiotics, antitoxins or chemical antidotes used to effectively prevent, mitigate, or treat adverse health effects of an intentional, accidental, or naturally occurring public health emergency. 
This toolkit provides information and answers key questions regarding how to become a closed POD, allowing the opportunity for organizations to work with MCPH to develop individual plans that's are just right for each.
Closed Point of Dispensing (POD) Toolkit
Community Engagement
Community engagement is the process of developing relationships that allow key partners to work together to address health-related issues and promote well-being to achieve positive health outcomes. Community engagement is crucial for managing, controlling, and mitigating natural and manmade disasters. The COVID-19 pandemic has confirmed the need to elevate community engagement to build equity, trust, and sustainable preparedness strategies throughout local communities, specifically those who may be disproportionally impacted. Strengthening communities enhances opportunities for better outcomes and building resiliency that will mitigate the impact of future disasters and emergencies.
The Mecklenburg County Preparedness Team strives to promote readiness within all communities by building relationships with community leaders to provide trainings and workshops to increase overall preparedness. Trainings and workshops are designed to equip all with the tools and resources needed during emergencies. 
If you would like for us to host a workshop, training or community or school fair, please contact us.
​​Notice of Non-Discrimination & Accessibility
The Notice of Non-Discrimination and Accessibility states that the Mecklenburg County Health Department (MCHD) complies with applicable Federal civil rights laws and does not discriminate on the basis of race, color, national origin, age, disability or sex. MCHD does not exclude people or treat them differently because of race, color, national origin, age, disability or sex. MCHD also does not discriminate on the basis of religion, pregnancy (including number of pregnancies), marital status, immigration status, sexual orientation, gender identity, or sex characteristics.
Guests needing language assistance or public accommodations under the Americans with Disabilities Act may do so by calling 704-336-6500.