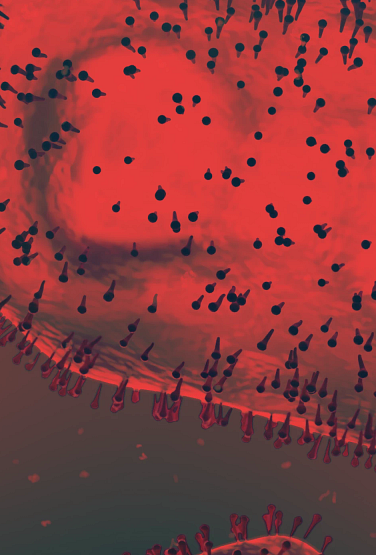 Mpox: What You Need to Know
Since early 2022, the CDC has been tracking cases of mpox (formally "monkeypox") in several countries that don't normally report mpox, including many counties in North Carolina. 
In early 2022, the US Centers for Disease Control and Prevention (CDC) started tracking multiple cases of mpox (pronounced "em-pox"; formally called "monkeypox") that have been reported in several countries that don't normally report mpox, including the United States. Many counties in North Carolina have reported cases, including Mecklenburg County. Get the most current information about the global outbreak from the CDC Website, and get information about the outbreak in North Carolina from the NC Department of Health and Human Services (DHHS) Website.
Total Confirmed Mpox Cases
Mecklenburg County: 249 (as of June 21, 2023)
North Carolina: 709 (as of June 21, 2023)
Symptoms
 The following are common symptoms:
Fever and/or chills
Headache and/or body aches
Swollen lymph nodes (tender lumps near the neck, jaw, armpits, and groin)
Exhaustion
A skin rash on any part of the body, including the genitals, with lesions (sores)

Rash can be as small as one or two bumps or cover the entire body
Lesions can look like bumps, warts, pimples, sores, or scabs
The illness typically lasts for 2 to 4 weeks, during which the skin lesions will change in shape and size before scabbing over and falling off. The person is considered contagious until all the lesions have healed and new skin is intact.
If you think you might have mpox and have the symptoms listed above WITHOUT a new, unexplained skin rash, isolate for 72 hours. If a rash develops, get tested. If your test is negative, you may get vaccinated.
If you think you might have mpox and have the symptoms listed above WITH a new, unexplained skin rash, avoid close contact with other people and contact a health care provider immediately to be tested. If your test is negative, you may get vaccinated.
See more images of mpox rash on the CDC Website.
Protect Yourself
The mpox virus can enter the body through
skin-to-skin contact with the rash, scabs, or body fluids of an infected person or
saliva and respiratory droplets of an infected person during intimate, face-to-face contact.
Practice the following to protect yourself and others:
Avoid intimate contact, including sexual contact, with anyone who has symptoms.

Talk with your sexual partners about any recent illness and be aware of new or unexplained rash on your body or your partners' bodies.
If you or your sexual partners have recently been sick, currently feel sick, or have a new or an unexplained rash, do not have sex and see a healthcare provider.

After physical contact with someone whose status you don't know, wash your hands and any surface the person touched and avoid touching your face.

Be aware of new symptoms, including a skin rash anywhere on your body, and seek a health care provider and avoid physical contact with others if symptoms appear.
Vaccine for High-Risk Individuals
The JYNNEOS mpox vaccine can prevent illness or lead to less severe symptoms if given before exposure to the mpox virus or within 2 weeks after exposure to the mpox virus. If you have been exposed to a person with mpox, contact a health care provider as soon as possible to get vaccinated. Call 704-336-6500 to make an appointment at an MCPH clinic or walk in any time during business hours to get the vaccine.
Currently, the vaccine is being offered to people who self-identify as high risk. You may be at high risk if you or your recent sexual partners meet or will possibly meet any of the following criteria:
You had close contact in the past 2 weeks with someone who has been diagnosed with mpox.
You are a sexually active gay or bisexual man or a man or transgender person who has sex with men or transgender individuals.
You had sexual contact in the past 90 days with gay or bisexual men or men or transgender individuals who have sex with men.
You are living with HIV, taking medication to prevent HIV (PrEP), or were diagnosed with syphilis in the past 90 days.
You had sex at a commercial venue or in association with a large public event in the past 6 months.
People who have mpox should NOT get vaccinated. People who have recovered are expected to have long-term immunity at this time and are not likely to benefit from vaccination.
The vaccine is given as two doses given at least 28 days apart. Completing the series by getting the second shot is recommended no matter how long ago the first shot was given.
MCPH Resources
Mpox in the United States: What You Need to Know
Mpox in the United States: Five Things to Know (Infographic)
History of Mpox
Mpox (formally called "monkeypox" because it was first discovered in monkeys in 1958), is a rare disease caused by an orthopox virus usually found in West and Central Africa. In the United Sates, it is most often found in small mammals like rats, mice, squirrels, rabbits, and prairie dogs. The first outbreak of mpox in the United States was reported in 2003 among people who got sick after coming into contact with infected pet prairie dogs. Historically, most cases of mpox occurred after a person was exposed to an infected wild animal or animal product. Recent cases, however, have resulted from person-to-person contact.